Queers at the Movies: the State of Queer Film Exhibition in Scotland
April 29, 2016 @ 7:00 pm

-

9:00 pm

Free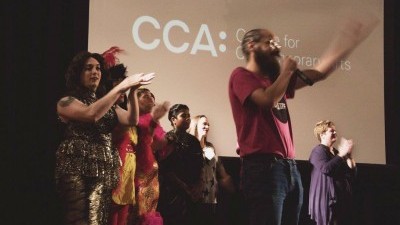 Scottish Queer International Film Festival (SQIFF) hosts a fun and informal evening of open conversation around queer film; what it is, what it isn't, what we'd like it to be and where the mainstream film industry is getting it all kinds of wrong… We want to know what the successes and failings of queer film events in Scotland are and how we can communicate with straight, cisgender film exhibitors and audiences.
We invite filmmakers and film lovers to submit their own short films or clips (max 10 minutes total) to be screened alongside the discussion in advance of the screening. Please send these to alice@sqiff.org. For accessibility reasons we will require all clips be subtitled or captioned. If you require advice on how to caption your film, please contact marcdavid@sqiff.org.
ACCESSIBILITY: The CCA is accessible for wheelchairs. We are using the CCA Club Room, for which access is via a lift with level access on the ground floor entrance. All films will screen with subtitles or captions to make them accessible for D/deaf and Hard of Hearing people. We will have BSL interpretation for the discussion element of the event. If you have any other access requests, let us know by posting on the page or contacting marcdavid@sqiff.org.
The event is free and un-ticketed. Just show up on the day. First come, first served.
This event is taking place as part of the 2016 Radical Film Network Festival and Unconference. To find out more about Radical Film Network, visit radicalfilmnetwork.com.